Related Links
Links to Related Web Sites
In this award-winning podcast (2007 Tennessee Digital Media Tournament's East Tennessee State University Best Faculty Feature) entitled, "Sports Illuminated," Dr. Burke discusses past, current, future events, issues, and "prime time" topics in the world of sports. No topic is "out of bounds" in this informational, yet critical analysis of issues in youth, high school, college, amateur, and professional sports. Submit your questions, comments, and topic ideas to kevinlburke@gmail.com . For more information and a listing of past podcasts visit www.sportsilluminated.com .
Nasdaq Stock Market Information
The mission of the SBA is to maintain and strengthen the nation's economy by aiding, counseling, assisting and protecting the interests of small businesses and by helping families and businesses recover from national disasters.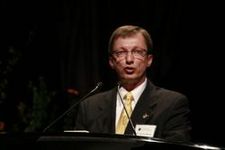 Dr. Burke
One of the most visited hubs on the Internet, reaching one out of every two Web users.
With over half a million sites, divided into more than 25,000 categories, Yahoo! is both browseable and searchable.
In addition to providing easy access to billions of web pages, Google has many special features to help you to find exactly what you're looking for.